Do you ever feel like some of your scrapping is out of sync with the seasons? That's how I feel right now. Spring is beginning to show itself, but I'm busy scrapping stuff from the fall. I guess when the inspiration hits I just go with it, whether it fits the season or not.
I was looking back through the Growing Pains Scrapped store recently, and when I saw Autumn Breeze I knew that it was the perfect kit for some of my pics that have been waiting to be scrapped (some for more than two years!).
I'm going to be searching through Tracy's store and seeing what kinds of things I can find hiding back there. The new releases are awesome, but her store is full of great scrapping material. Don't be afraid of taking some time to look through the whole thing. I guarantee that you won't be disappointed. (Your wallet may end up a little poorer for your effort, but your stash will be much richer.)
Here are a couple of layouts that I made with Autumn Breeze.
(Template in second layout from Lots o' Pictures pack 2 by Shel Belle Scraps)
Aren't those colors great? I love the way they really work with fallen leaves and pumpkins in my pics.
Here's a little freebie that I made for you from this great kit. If you aren't doing your fall scrapping right now, maybe you can save it for later.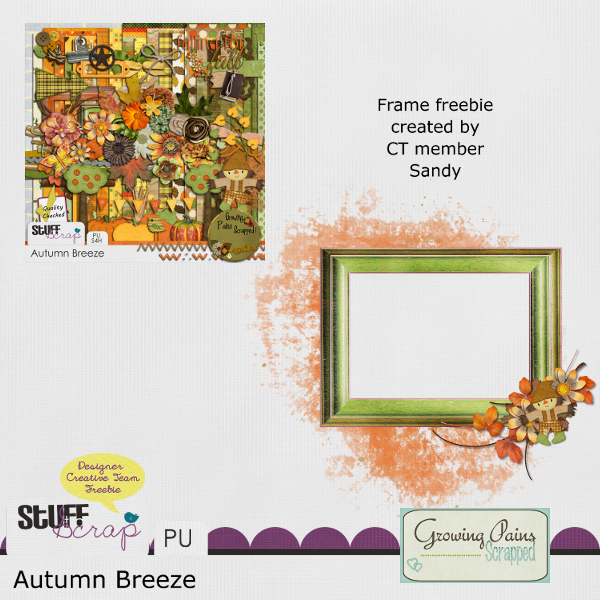 Don't forget to take a few minutes to see what you can find hiding in the back of Tracy's store. I promise that it's nothing creepy-crawly!